You don't have to buy a new TV. Save thousands of dollars by having your TV repaired by professional technicians.
Reasonable Rates:
You will save up to 80 % compared to buying a new TV
All Makes:
15 years of experience repairing Panasonic, Sony, Samsung, Hitachi and other TV brands being sold in Canada
Plasma And LCD:
We provide affordable repairs of flat screen TVs
Fast Service:
We are able to repair your TV on short notice, often within hours
Strong Warranty:
We always stand behind our work
---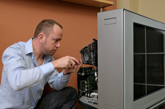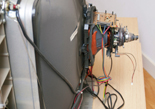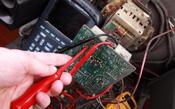 Tv Repairs
About 30% of all TVs and stereos just need to have their circuit boards properly soldered. The reason they come un-soldered is the manufacturers are now making the circuit boards by putting parts on both sides of the circuit board so that they will not have to drill as many holes. Because of this, they can no longer dip the circuit board in solder as they used to do or they will destroy the parts they put on the bottom. Instead, they are sprinkling the board with a poor quality solder dust and melting it with a type of blow dryer device
The connections come un-soldered in just 2 years instead of lasting 10 or more years like they used to do. This is all done in order to bring you that cheap TV, although this same poor way of soldering is done on the more expensive models, too, so they don't last too much longer than the cheap ones.
This problem is readily repairable by soldering the broken connections by hand with the proper solder; the way circuit boards should be soldered. When done properly, your product can easily last many times longer than when it first left the factory.
The second most common cause for tv repairs is that the manufacturers often put in a few undersized or low quality key parts, which promptly fail. Once these flawed parts are replaced with a quality part, your machine can last longer the second time around, sometimes by many years. We are actually in the business of re-manufacturing electronic equipment when you get down to it.
And consider this, another 30% of all broken VCRs, CD players, DVDs, fax machines and printers are not broken at all but just need a good cleaning and nothing more.
What is the solution to all this? Don't give up on your equipment so quickly. Have it checked by a competent tv repair person first. Spare our environment from more toxic waste. And, as most electronic manufacturers are now foreign-owned; taking your money out of the country, investing in a repair is good for our 'local' economy. Save yourself some money, too. It is often the cheaper option because our Canadian ingenuity can make it better and last longer, saving you money and energy in the long run.